I have driven several hundreds of miles along empty yet beautifully paved roads. In the wilds of Utah, where visibility on a good day is 235 miles; through the pacific coast towards San Francisco where the road and the ocean play tag with each other and the sunsets are glorious. However, the one thing I desperately wanted to do was to drive at home through the Doab plains. Taking the opportunity to spend a couple of days during this sabbatical of mine, I took a little sojourn to Aligarh. A small and insignificant trip to be sure, but filled with delirious joy for me.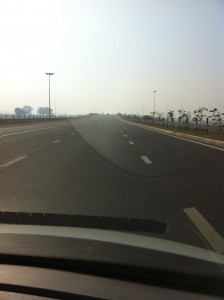 The Yamuna Expressway and I, we had long conversations all the way to Agra on another sad trip but this time we could only converse like old pals in a hurry, for 44 wonderful Kms. This road is nothing I have experienced in India before (It is true that I know little of this country so no offense to other roads). There is no way I can be less than parochial in this post so I am going to go the whole hog and say that there is nothing so lovely as watching the countryside flash by.  The sugarcane stands and mustard fields in the distance are a joy to behold from a freshly tarred and well maintained road.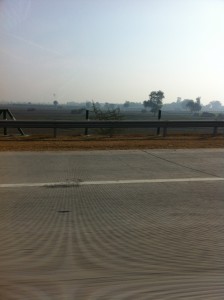 By the way, no picture taken at any resolution can ever do justice to the pure joy upon beholding a field of mustard flowers in bloom. This picture is blurry but I cannot describe in words or even in any emotional cadence, a field of mustard lightly rustled by a breeze. Perhaps poets can do justice to this or great painters, but the eye is completely arrested and the mind captivated by this scene.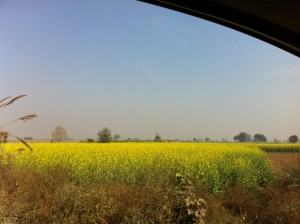 I sat here maudlin for a whole half hour.  Very reluctantly did I turn my audio book back on and move towards Aligarh.