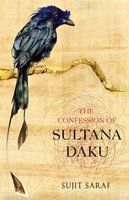 Oh! Such a sad tale, full of pathos and foreboding. I was so moved that I went into active depression for a couple of days.
This is a supposed narrative that Sultana gave of his life to a white Sahib the night before he was supposed to be hung.
It makes for great reading because it seems that Robin Hood has come alive again. Sultana is a charismatic bhantu outcaste who has no other choice but to rob and thieve, such is the abject poverty that he is born into. This book is set in the backdrop of the non-cooperation 20's, probably just after the Chauri-Chaura incident.
The author narrates the events in Sultana's life and his love for his Phoolkanwar(a nautanki girl) so well that one is moved to will him to survive this night! At the end, we can sense the despair of Sultana and the distrust of the white Sahib towards all Indians. The climax is quite gripping. This book is a must read for all those who think on how Dakus have arisen in India.
To get more from Mr. Saraf, please visit his website.