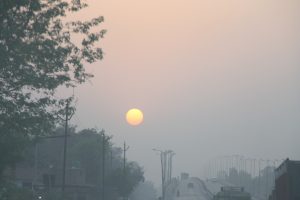 What price Efficiency?
The glory of the dying sun on the plains of India stirred interesting thoughts. Why is so showy? Why are we so gaudy about everything? Is the beauty of the universe reliant on the waste of energy?
These are heavy thoughts and perhaps belong to the philosophers, poets and mystics among us. On to more prosaic matters, a few weeks ago, I read an article on how Amazon had figured out a no-friction way to make shoppers get what they want. Just this week, the Economist brings in an interesting article on why too much efficiency can be a bad thing. The one-click ordering from Amazon.com that makes me buy too many books or the no-click Pizza buying from Domino's through it's app comes to mind.
Similarly, in SAAS products, we try to make the funnel narrower and thinner all the time to induce the customer to buy right away. What we forget many times is that subscription products are longer terms commitments and do require some thinking before the "Buy" button gets clicked. It may help to introduce some inefficiency the process by required watching of a training video or some demos from experienced sales folks before we allow users to swipe their cards. "But we will lose a lot of orders", you might say. Well, perhaps. Have you considered the amount of churn you already generate by allowing anyone to just swipe their card and then cancel a few days later. I bet, that impacts more of your bottom-line than people taking their time ordering pricey services online.
The Volga Vikings
Talking of inefficiencies, let's talk of these tribes of marauding Vikings who traded and raided all over Europe, sometimes to everyone's credit and at other times, just causing mayhem all around. It is conjectured that these people came to so ferocious because a cataclysm(a meteor or comet) hit Northern Europe in the middle of the 6th century. It caused lots of hardship and caused the people to spill out looking for food and provisions for their families. Couldn't they just trade, one may ask?
Two excuses come to mind. One, there were already established trade networks in Northern Europe and the raiding of Monasteries was to break their stranglehold on these networks. Two, there was lots more loot to be had when you could use physical threats with those you traded, Imperial East India Companies of later years come to mind.
They had mastered the sail and some raided on the coasts of Europe to get loot and other went the route of the Volga and traded with Byzantium and Baghdad. They brought in slaves and furs and traded them for gold, silver and spices.
Some of these groups of Vikings settled lands like Iceland, parts of Greenland and some early settlements can be seen in the coastal United States and Canada. The trade route linked to the famous silk route and so flourished until the Abbasid Caliphate had control, petering out in the 12th century.
To learn some more of their achievements, please listen to this lovely podcast and read about them in these lovely books.